September 2019
| Mon | Tue | Wed | Thu | Fri | Sat | Sun |
| --- | --- | --- | --- | --- | --- | --- |
| | | | | | | 1 |
| 2 | 3 | 4 | 5 | 6 | 7 | 8 |
| 9 | 10 | 11 | 12 | 13 | 14 | 15 |
| 16 | 17 | 18 | 19 | 20 | 21 | 22 |
| 23 | 24 | 25 | 26 | 27 | 28 | 29 |
| 30 | | | | | | |
Calendar


it has now been confirmed by the BBC that series 11 will start on Sunday October 7th, 6.45 PM BBC 1 The Woman who fell to Earth.


Last edited by Admin-Emperor Dalek on Wed 26 Sep 2018 - 16:38; edited 2 times in total
A new photo from series one.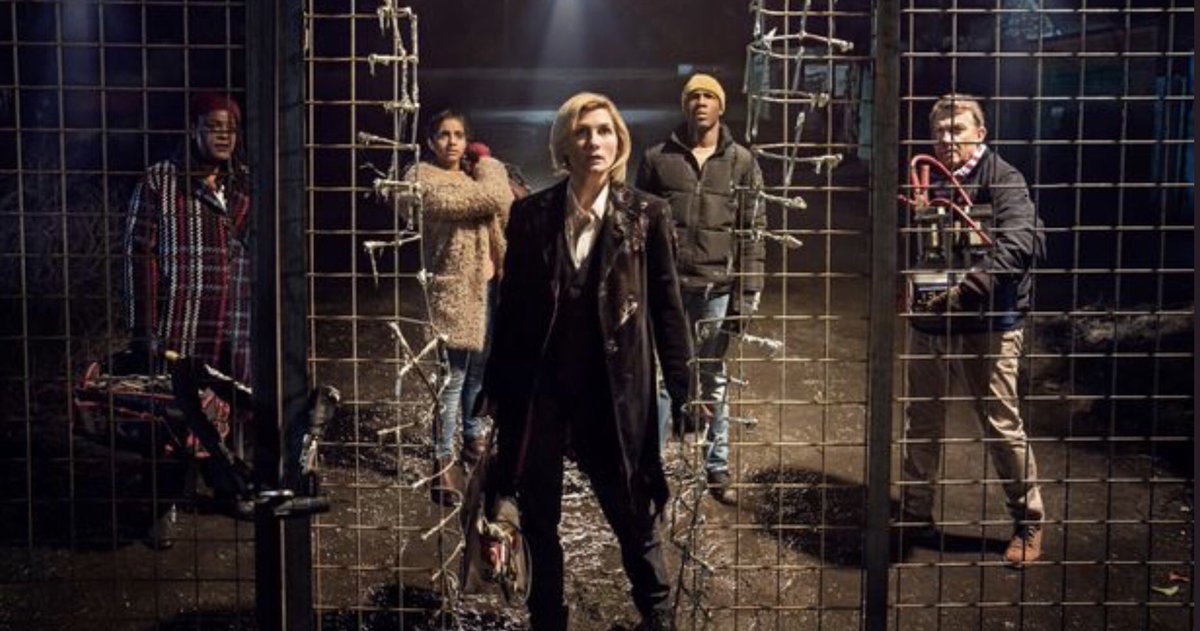 Mild spoilers!
The BBC have issued a new image promoting the return of 
Doctor Who
 on 
Sunday 7th October 
2018. 
Episode Two has been confirmed as being titled 
The Ghost Monument
Guest staring will be 
Shaun Dooley
, who played Peter Harper in BBC drama series The Street, 
Susan Lynch
, who won the British Independent Film Award for Best Supporting Actress for the 2003 film, 16 Years of Alcohol and veteran actor 
Art Malik
, best known for his portrayal of Hari Kumar in classic series 
The Jewel in the Crown
. 
The join 
Jodie Whittaker
 as the Thirteenth Doctor, alongside with 
Bradley Walsh
, 
Mandip Gill
 and 
Tosin Cole
. 
The series showrunner, 
Chris Chibnall
, said
Finally – Jodie Whittaker's Thirteenth Doctor is about to crash land on to the nation's screens. It's thrilling to think, in the next few weeks and months, there will be children encountering Jodie's Doctor in the next few weeks who've never seen the show before. She'll be forever their Doctor: you never forget your first. 

Alongside Jodie, we have a delightful ensemble of new characters for the audience to fall in love with, led by the incomparable Bradley Walsh. 

So break out the popcorn and hunker down for Sunday night adventures in space and time, with the Thirteenth Doctor and her new best friends. The journey's about to begin.
---
Episode One - The Woman Who Fell To Earth
We don't get aliens in Sheffield. In a South Yorkshire city, Ryan Sinclair, Yasmin Khan and Graham O'Brien are about to have their lives changed forever, as a mysterious woman, unable to remember her own name, falls from the night sky. Can they believe a word she says? And can she help solve the strange events taking place across the city?
Guest starring 
Sharon D Clarke
, 
Johnny Dixon
 and 
Samuel Oatley
. Written by 
Chris Chibnall
 and directed by 
Jamie Childs
. 
---
Episode Two - The Ghost Monument
Still reeling from their first encounter, can the Doctor and her new friends stay alive long enough, in a hostile alien environment , to solve the mystery of Desolation? And just who are Angstrom and Epzo?
Guest starring 
Shaun Dooley
, 
Susan Lynch
 and 
Art Malik
. Written by 
Chris Chibnall
 and directed by 
Mark Tonderai
.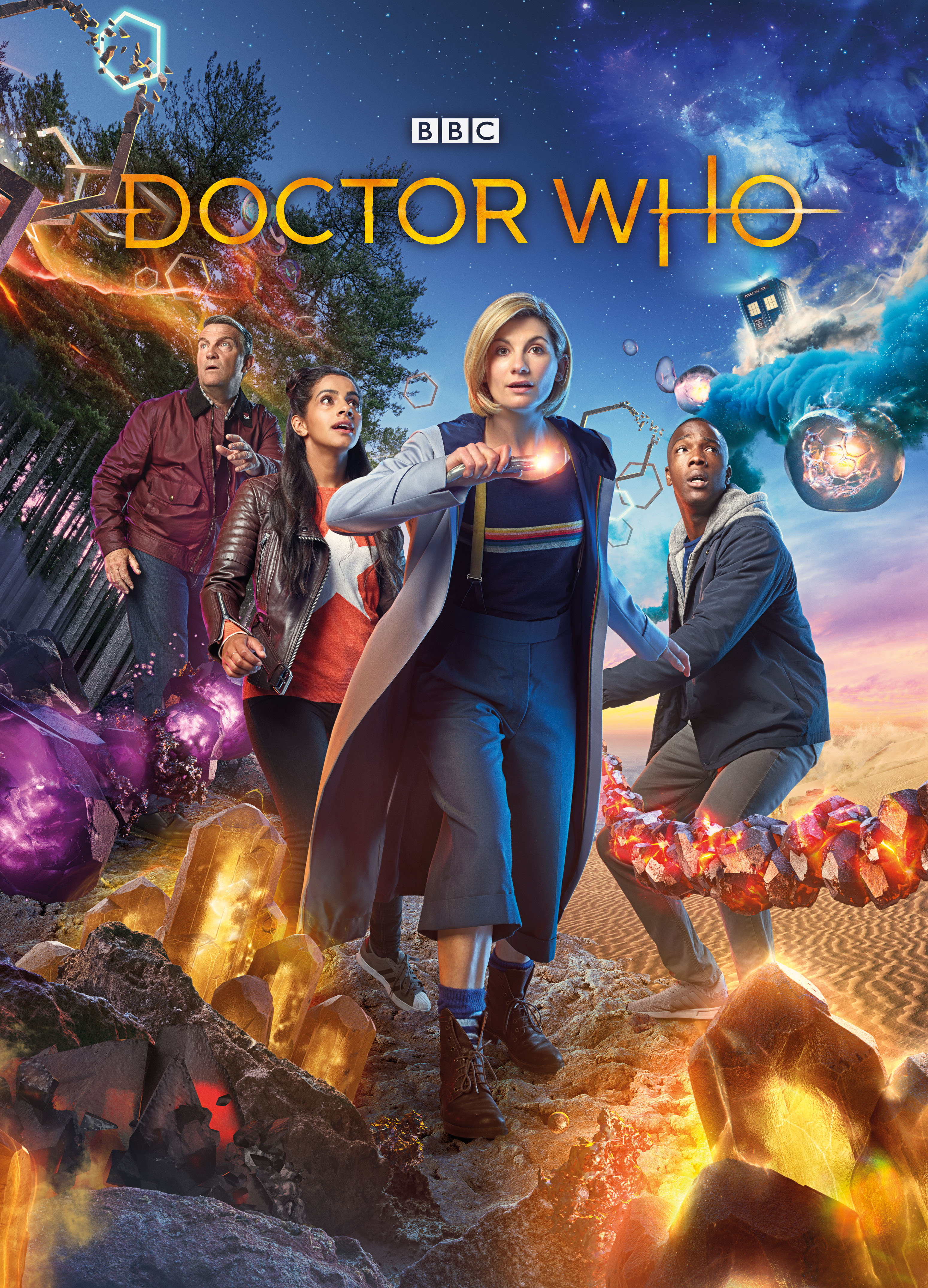 To be honest, knowing that there are going to be ZERO recurring elements: No Daleks, Cybermen, or anything, kinda of takes away a lot of hype for me. Plus, those titles sound so boring, "The Woman Who fell to Earth", I mean come on how bland can you get. And "The Ghost Monument"? Wow, that is... BIG, how exciting... not.

And why are they putting Bradley Walsh at the back of the poster? if anything, he should be at the front because he's the only capable actor in this new diverse cast. Jodie Whittaker couldn't act to save her life. As for those two other losers, I mean I've forgotten who they are already and quite frankly I don't care to remember their names either.

Poster itself looks like wayyyy too much Maths for me. 100 shapes with bright colours = Sci-Fi? Sure, let's run with that. Why not go for something simple like with "The Doctor Falls" poster of the Doctor and the Masters?

And lastly, what is the point of even promoting gender issues, race issues, and all that within this tv show specifically? People are saying it's to be "Inclusive" and that there's "Nothing wrong with it", but in a show which literally involves an alien travelling through time in a god damn police box that's bigger on the inside, what's the point of trying to incorporate any social elements?

LastOfTheSonics

The Sixth Doctor's TARDIS




Posts

: 1808


Join date

: 2015-07-28


Location

: The Sonic Technology Workshop



Admin-Emperor Dalek wrote:Also 
So I have nothing against the LGBT+ community, let me say that right from the start. 
But, I do have a problem with the whole LGBT+ concept being used to increase viewers and maximise the potential fanbase. LGBT representation in the new series? So what? It's not like we had a companion literally last year who was the biggest representation of homosexuality in the show ever since it began over 50 years ago.

LastOfTheSonics

The Sixth Doctor's TARDIS




Posts

: 1808


Join date

: 2015-07-28


Location

: The Sonic Technology Workshop



The first episode of the new series, 'The Woman Who Fell to Earth', which premieres on Sunday 7th October (during Dyspraxia Awareness Week) reveals that Ryan (played by Tosin Cole) has Dyspraxia.
Read more on the Dyspraxia Foundations page here

---
Permissions in this forum:
You
cannot
reply to topics in this forum