May 2018
| Mon | Tue | Wed | Thu | Fri | Sat | Sun |
| --- | --- | --- | --- | --- | --- | --- |
| | 1 | 2 | 3 | 4 | 5 | 6 |
| 7 | 8 | 9 | 10 | 11 | 12 | 13 |
| 14 | 15 | 16 | 17 | 18 | 19 | 20 |
| 21 | 22 | 23 | 24 | 25 | 26 | 27 |
| 28 | 29 | 30 | 31 | | | |
Calendar


So I'm not sure how many of you have seen these posters, but there are several franchises in which what I think is a campaign group are stating that there is racial inequality in the acting industry. There are two of these posters which I am aware of. One is a Harry Potter one, the other is Doctor Who: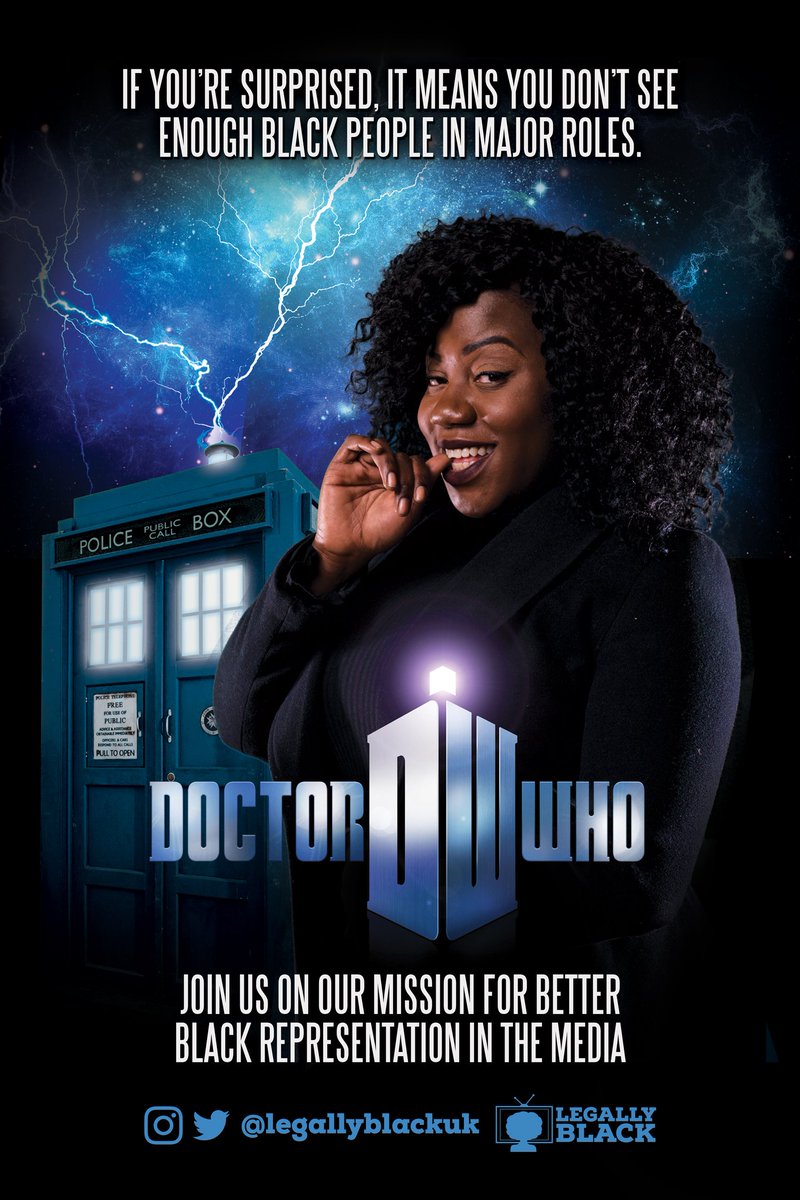 I think it's great that these people want to get their message out there, that's entirely their right to freedom of speech. But what I don't get is why on earth they're using Doctor Who to promote this movement? In the upcoming series, half of the main cast are black - that's literally as equal as the cast can possibly get. 
And in the past 13 years, we've had loads of black major characters: Martha; Martha's family, Bill, Mickey, Rex (Torchwood), and I'm sure there's plenty others I could name if I needed to.
Yes I am surprised by this poster, but not for the reason you think. What surprised me when I first saw it was the person in the photo; I genuinely do not recognise nor know who she is - is she a part of the campaign? Is she someone random? Is she part of the upcoming series?
In fact, I wouldn't be surprised if people who don't watch the show actually mistook this person for being the Doctor, I mean just look at how the poster is presented, that's definitely the kind of idea you would get from it.
Anyone got any other thoughts on this?

LastOfTheSonics

The Sixth Doctor's TARDIS




Posts

: 1741


Join date

: 2015-07-28


Location

: The Sonic Technology Workshop



Its odd as its not refering to Doctor Who having a lack of black actors, to look at the picture you would think that is what they are saying. Yes there should be a balance in media etc of all races.
I have been watching Star Wars rebeles, its odd that the character of  Agent Kallus is a white man yet voiced by a black man. Only black character I have seen in it is Lando Calrissian.
That's a very poorly designed campaign then. To me, I interpreted that as them using Doctor Who as a step-ladder for their campaign.

The assumption is another huge flaw with it - yes people will be surprised by it, but that doesn't mean they "don't see enough black people in major roles", it's simply because the poster doesn't make any sense - we've just got a first female doctor, now we're pushing to get a black one as well? That's what people will think.

I don't get the idea of the campaign in the first place. Sure I agree with the idea of spreading a message, but literally one of the biggest movie franchises in the world right now - Star Wars - has two black leading characters in the sequels/spin-off movies. 

And what about last year's "Get Out", this year's "The Cloverfield Paradox" (whose main character actually used to be in Doctor Who by the way), "Attack the Block" (A Jodie Whittaker film), "Black Panther", "The Walking Dead"; these are all movies/programs which have black characters in the main cast.

LastOfTheSonics

The Sixth Doctor's TARDIS




Posts

: 1741


Join date

: 2015-07-28


Location

: The Sonic Technology Workshop



Admin-Emperor Dalek wrote:World has gone mad.
It most certainly has. I remember when this programme was actually a sci-fi show. 
Now it's just another stepping stone for "social justice". What with this campaign, the 'HO' in the new logo being a gender symbol, and of course the whole reason why the Doctor is now female is literally a cause of all this silly gender business.

LastOfTheSonics

The Sixth Doctor's TARDIS




Posts

: 1741


Join date

: 2015-07-28


Location

: The Sonic Technology Workshop




---
Permissions in this forum:
You
cannot
reply to topics in this forum