March 2018
| Mon | Tue | Wed | Thu | Fri | Sat | Sun |
| --- | --- | --- | --- | --- | --- | --- |
| | | | 1 | 2 | 3 | 4 |
| 5 | 6 | 7 | 8 | 9 | 10 | 11 |
| 12 | 13 | 14 | 15 | 16 | 17 | 18 |
| 19 | 20 | 21 | 22 | 23 | 24 | 25 |
| 26 | 27 | 28 | 29 | 30 | 31 | |
Calendar


Biff Bang Pow were a company that produced Doctor Who doll-like figures. Although they were far superior to standard dolls. Their aim was to recreate the idea of retro action figures. And for a time, it actually worked. It went so far as to make David Tennant happy when he finally received his Leela doll - you can see that video 
here.
Key: Normal writing - Released,
Italics - Unreleased, Bold Italics - Unreleased ( Mock-up shown only )
Image A Front:
11th Doctor (Series 7B), Amy, Rory, Silent
Image A Back: Li H'sen Chang,
River Song (Series 5), TARDIS
Image B Front:
Clara, The War Doctor, The 10th Doctor
Image B Centre:
Anti-Man, Kraal,
Field Major Styre, 4th Doctor, Decayed Master, Li H'sen Chang (again), Sutekh
Image B Back:
Magnus Greel, Morbius, Eldrad (Female),
Cyberleader (Revenge - Hard to see, it's at the very back in the middle, but the light blocks its view, you can see the black handles)
Image C: Sutekh, Cyberleader, Leela (In box),
Li H'Sen Chang, Mr. Sin,
Dalek,
Kraal, TARDIS
Image D: Closer look at
Eldrad
and
Anti-Man
Image E: All released Biff Bang Pow figures. Notice on the bottom row there are Five unreleased figures. Three of which have been shown in previous images, however two (Weeping Angel and Eternal Dalek) do not have prototypes or mockups. The only evidence of their existence is on this cardback.

In my opinion, I would've loved to see ALL of these figures released. It's a shame that more than half of the ones they had planned out never saw the light of day. I also wonder where else it would have lead. Perhaps we could've gotten a Yeti at last, or maybe even related to the new series, a Bill doll. I would also have loved to see the Eternal Dalek one get released, a Biff Bang Pow take on a Paradigm would've been pretty cool. I get that everyone hates that design, and I'm not the biggest fan of it, but I actually thought they were alright for a redesign, because when I first watched the episode in 2010, I was not at all aware there was going to be a redesign.
What do you think? Do you wish Biff Bang Pow had kept their license or are you glad they gave it up? And if I have made any errors on this 'virtual museum', feel free to point them out for me to rectify, or other Moderators feel free to rectify them yourself.
Thanks to Admin for Images A - D. Unfortunately, I cannot find a creditable source for Image E.

LastOfTheSonics

The Sixth Doctor's TARDIS




Posts

: 1696


Join date

: 2015-07-28


Location

: The Sonic Technology Workshop



I loved Bif Bang Pow, and would have loved more. Seeing as the Clara and War Doctor mock ups were shown shortly after the 50th episode, I'm guessing they would have brought characters out much quicker than CO and, as you say, they most likely would have been the first company to produce new characters like Bill and Nardole.

Dalek

The Ninth Doctor's Tardis




Posts

: 2792


Join date

: 2013-02-20


Age

: 19


Location

: At Home or the Library



I really liked them, the Dalek at first looks a bit rubbish, but its not. Remember these are based on dolls of the 70's Denys Fisher. I wish they had continued.
For the 50th anniversary in 2013 they produced a collectors Tote tin with the 1st & 11th Doctor. Also a Tardis that openend up to reveal the console room and came with K9.
David Tennant the 10th Doctor gets a Lella figure.

For those curious, unfortunately the TARDIS playset is not in scale with the 5 inch figures. The console is slightly too large. Therefore to this date, there still is no classic console unit compatible with CO figures sadly. Anyway, I have a few more images to show.
Bobbleheads: 4th Doctor, Davros, TARDIS, Eternal Dalek - All released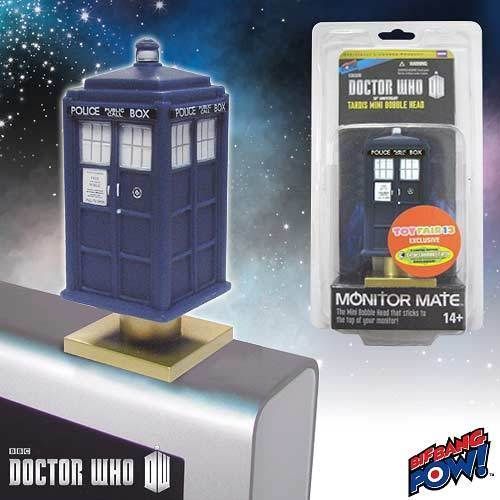 There were actually 2 other variants for the TARDIS bobblehead: 50th Anniversary Silver Edition, Black & White 1st Doctor Edition (SDCC exclusive)

LastOfTheSonics

The Sixth Doctor's TARDIS




Posts

: 1696


Join date

: 2015-07-28


Location

: The Sonic Technology Workshop





Similar topics
---
Permissions in this forum:
You
cannot
reply to topics in this forum