July 2018
| Mon | Tue | Wed | Thu | Fri | Sat | Sun |
| --- | --- | --- | --- | --- | --- | --- |
| | | | | | | 1 |
| 2 | 3 | 4 | 5 | 6 | 7 | 8 |
| 9 | 10 | 11 | 12 | 13 | 14 | 15 |
| 16 | 17 | 18 | 19 | 20 | 21 | 22 |
| 23 | 24 | 25 | 26 | 27 | 28 | 29 |
| 30 | 31 | | | | | |
Calendar


Doctor Who Magazine Issue 522
PETER CAPALDI, SUSAN CALMAN AND COSPLAY IN THE NEW ISSUE OF DOCTOR WHO MAGAZINE!
Issue 522 also sheds new light on the Dalek craze of the 1960s, as agent Beryl Vertue and writer Brad Ashton remember the roles they played. "The Daleks were really the beginning of the BBC handling merchandise," says Beryl. "None of us really knew what we were doing, so one might say we invented it."
HIGHLIGHTS OF THIS ISSUE…BERYL VERTUE
In the 1960s Beryl Vertue was Terry Nation's agent – now she's Steven Moffat's mother-in-law! Beryl discusses an association with Doctor Who that began before the first episode was even transmitted.
BRAD ASHTON
The comedy writer recalls his friendship with Dalek creator Terry Nation and the role he played in The Dalek Outer Space Book.
TERRY NATION'S DALEK EMPIRE
How did the Daleks become so popular in 1964? And why did they suddenly disappear three years later?
WALKING DALEKS
The BBC's archive gives up its Dalek secrets – including details of the prototype toys that were never manufactured.
PETER CAPALDI
Previously unpublished quotes from the last four years reveal a new side to the man who played the Twelfth Doctor.
SUSAN CALMAN
Comedian, Strictly Come Dancing favourite and now Doctor Who writer – Susan Calman discusses her love for the Time Lord in this exclusive interview.

EMMA FREUD
The organiser of Comic Relief's 'Breakfast with the Doctors' event explains how she managed to unite seven Time Lords, two companions and a showrunner.
COSPLAY
In the first part of a new regular feature, Christel Dee presents a guide to recreating Ace's jacket.
PUBLIC IMAGE
A detailed survey of Doctor Who's television ratings during the Peter Capaldi years.
NEW EARTH
This issue's Fact of Fiction explores the 2006 story featuring the Tenth Doctor and Rose.
THE PHANTOM PIPER
Part Four of The Phantom Piper, a new comic strip adventure featuring the Twelfth Doctor and Bill.
PLUS…
The Blogs of Doom, previews, reviews, news, prize-winning competitions and your letters.
Doctor Who Magazine 522 is on sale from Thursday 8 February, price £5.99.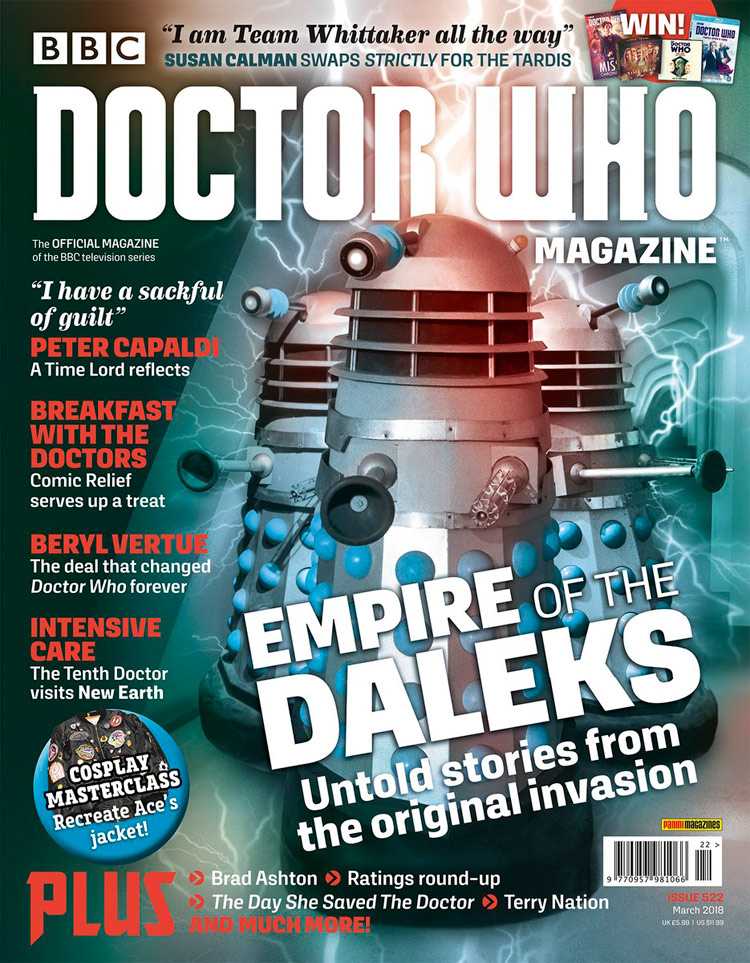 Issue 523 out now.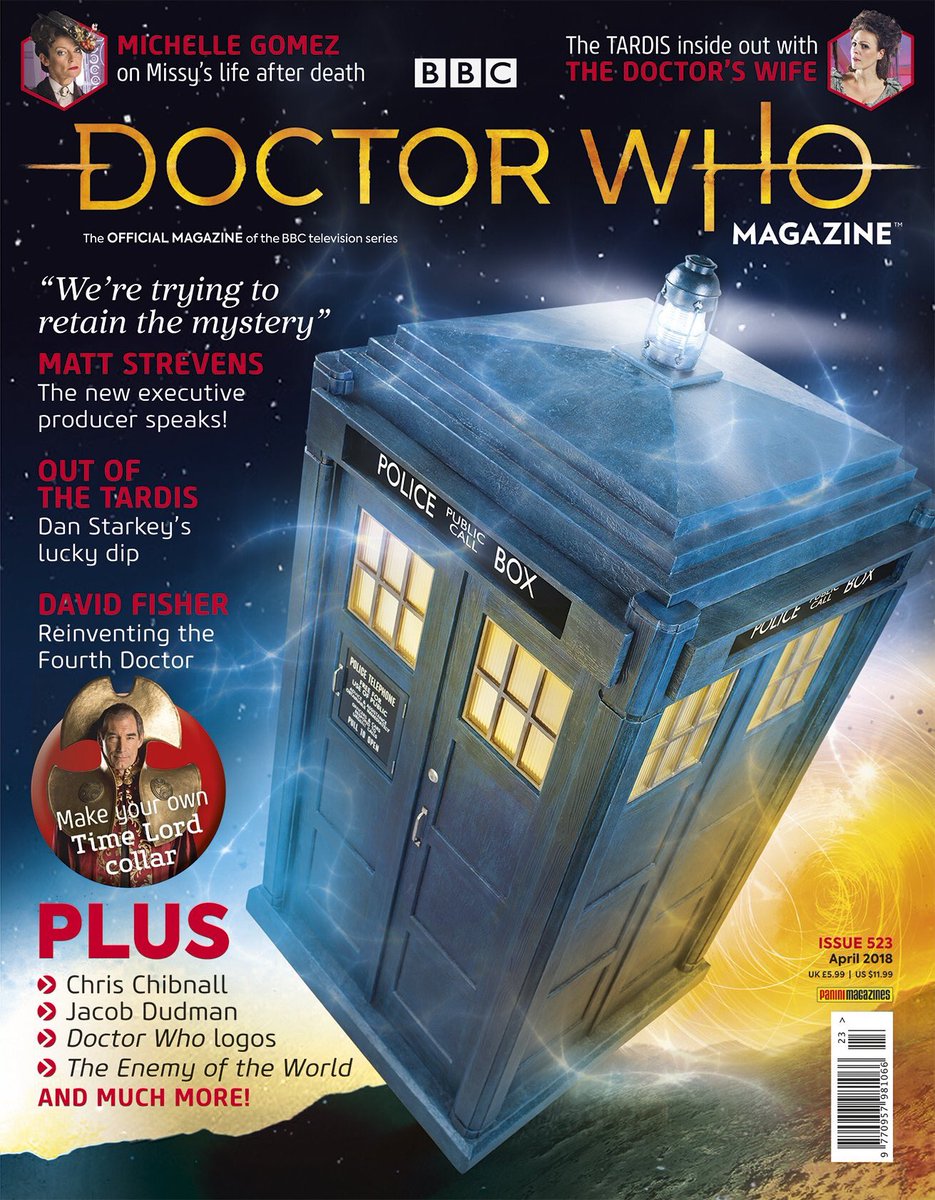 DWM 525 June 2018.
The current DWM intrduces a new time team.
The new look team has upset a lot of fans this new team and the Mirror newspaper has an article on it as well.
See
here
Wait, what? What is this? Ok I'm not trying to be offensive here, but there are many things that stick out to me which I have to establish:

-Every person in that photo has got to be between 18-30. That's completely unfair. They seriously couldn't put a few middle-aged people on that team? You know, people who would have seen the classic series?

-Again, just like with the 13th doctor, here we have another example of social justice rubbish. I don't really have a problem with this, I'm just a bit annoyed that the BBC still think we need educating on diversity and racial equality - we get it, everyone's the same, every moral human being knows that, why must it be made apparent here? In fact, I'll bet that's the main reason why this "team" was even assembled. This sort of reminds of that "Legally Black" campaign from a while back - promoting a strong message using non-existent and exaggerated info.

-Christel Dee - Not only do I find her irritating, but she runs the fan show... which means, technically - she's a member of/affiliated with the BBC. That's literally as biased as you can get with this kind of objective. The point of distributing episodes early to a target demographic is that their views will be objective. I'll tell you what this is like - it's like selecting a member of the jury who is the parent/sibling relative of the defendant. 

-And lastly, Who really cares about this? It's a bunch of people that no one is going to know, and Doctor Who has a large enough fan following that this is just completely pointless - even for people who aren't fans, the idea of the Doctor icon changing gender will make others curious and prompt them to watch. All that this does is it makes people sigh and rethink yet again what has happened to the world - y'know all this social justice rubbish again.

LastOfTheSonics

The Sixth Doctor's TARDIS




Posts

: 1779


Join date

: 2015-07-28


Location

: The Sonic Technology Workshop



Time teams view of Spreahead from Space.
I'm curious what the statistics will be. Everyone take note of how many people purchased the most recent issue of DWM, and when this next issue is released, compare the two figures - and boom, that's why something like this is poisonous for the show. Just wait and see.

LastOfTheSonics

The Sixth Doctor's TARDIS




Posts

: 1779


Join date

: 2015-07-28


Location

: The Sonic Technology Workshop



I am not sure how you would find out that. All I know once a year i think it  we find out in a publication sales report.
Been behind posting this. Current issue on sale now.
One interesting thing from this issue which I've not seen reported anywhere else is that Class will be getting an OST later this year, which will also have a limited release on vinyl. There's also a 'History Collection' download scheduled for August at £28, apparently featuring various Doctors. This could be a collection of the History Collection novel reprints from 2015, or maybe a historical themed collection of Target novel readings, they've been doing themed download sets of them recently such as UNIT, the Master, Alien Worlds, Monsters, etc.

Dalek

The Ninth Doctor's Tardis




Posts

: 2816


Join date

: 2013-02-20


Age

: 19


Location

: At Home or the Library




---
Permissions in this forum:
You
cannot
reply to topics in this forum